The Mikhail Shchepkin Higher Theatre School (Institute) of the State Academic Maly Theatre of Russia is the oldest theatre school in Moscow. Its roots go back to the Imperial Theatre School of Moscow established by Emperor Alexander I on 28 December 1809. With its long history and a rich creative track record, the school is a unique phenomenon as a source of centuries-old acting art expertise with its own established artistic traditions. The names of our numerous graduates who became grand masters of the performing arts embellish the treasure trove of Russian theatre: I.V. Samarin, S.V. Shumskiy, V.I. Zhivokini, G.N. Fedotova, M.N. Ermolova, the Sadovsky dynasty and A.P. Lenskiy, to name but a few. Our school was an inexhaustible source of gifted performers in the 20th century, giving the world such names as A.A. Ostuzhev, V.N. Pashennaya, E.D. Turchaninova, V.N. Ryzhova, F.N. Kaverin, N.A. Annenkov, Yu.M. Solomin, S.V. Nemoliaeva, P.B. Luspekaev, S.A. Lyubshin, T.N. Pankova, O.I. Dal, V.M. Solomin, I.M. Churikova, E.E. Martsevich and many others. Such names as O. Menshikov, D. Kharatyan, E. Glushenko, O. Mysina, A. Domogarov, D. Nazarov, N. Vdovina, E. Beroev, M. Basharov, I. Petrenko, A. Chadov and P. Krasilov are testament to the high professionalism of our graduates in recent years. All of them have earned honorable titles, awards and prizes.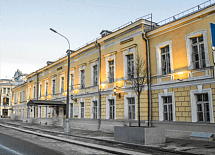 Such stellar theatrical pedagogues as M.S. Shchepkin, A.P. Lenskiy, V.N. Pashennaya, P.Ya. Sudakov, K.A. Zubov, V.I. Tsygankov, L.I. Deykun, L.A. Volkov, M.I. Tsariov, M.O. Knebel, A.D. Dikiy, N.N. Afonin and V.P. Selezniov graced the school with their dedicated years-long service.
The artistic policy and superior excellence of our actors are currently shaped by artistic directors of our courses and studios, school professors: V.I. Korshunov, Yu.M. Solomin, O.N. Solomina, B.V. Kliuev, V.M. Beilis, V.N. Ivanov, D.G. Koznov, V.I. Bochkariov and I.V. Liakh.
The school is famous for its approaches to training ethnic performers. More than 50 ethnic studios have graduated from the school since the Yakutia Studio was first assembled in 1950. Many school graduates work across the former Soviet Union and the school remains committed to developing theatrical arts in those countries. The school has been an institution of higher education since 1943. It has 5 departments: Department of Acting, Department of Gestural Expression, Department of Stage Elocution, Department of Art Studies, Department of Philosophy and Culture Studies.
After four years of study, school graduates receive a diploma of a drama theatre and film actor.
The school faculty of 99 instructors includes 38 professors and assistant professors. The student body includes 234 students.
Prof. B.N. Lyubimov, meritorious worker of arts of the Russian Federation, is the school rector.
Every year we cooperate with the Association of Moscow Institutions of Higher Education and the Council of Rectors of Institutions of Higher Education of Moscow and Moscow Oblast.
The school has its own library, with over 30,000 printed books and an electronic catalogue of 5,000 titles.
The school ranks highly among Russian theatre schools, earning citations and prizes at annual student festivals, roadshows and competitions.
School graduates get placements with leading theatres of Moscow, St. Petersburg and other Russian cities. They get cast for movies and television by the best directors.
Our school maintains regular international ties with international theatre schools and universities. In recent years our instructors have given master classes and staged performances with international students in Germany, South Korea, Japan, America and France.
The Mikhail Shchepkin Higher Theatre School is currently one of the leading institutions of higher theatrical education in Russia — a school of Russian stage realism. The Maly Theatre and its School are part of Russia's national heritage.